Stroopwafel Pumpkin Cheesecake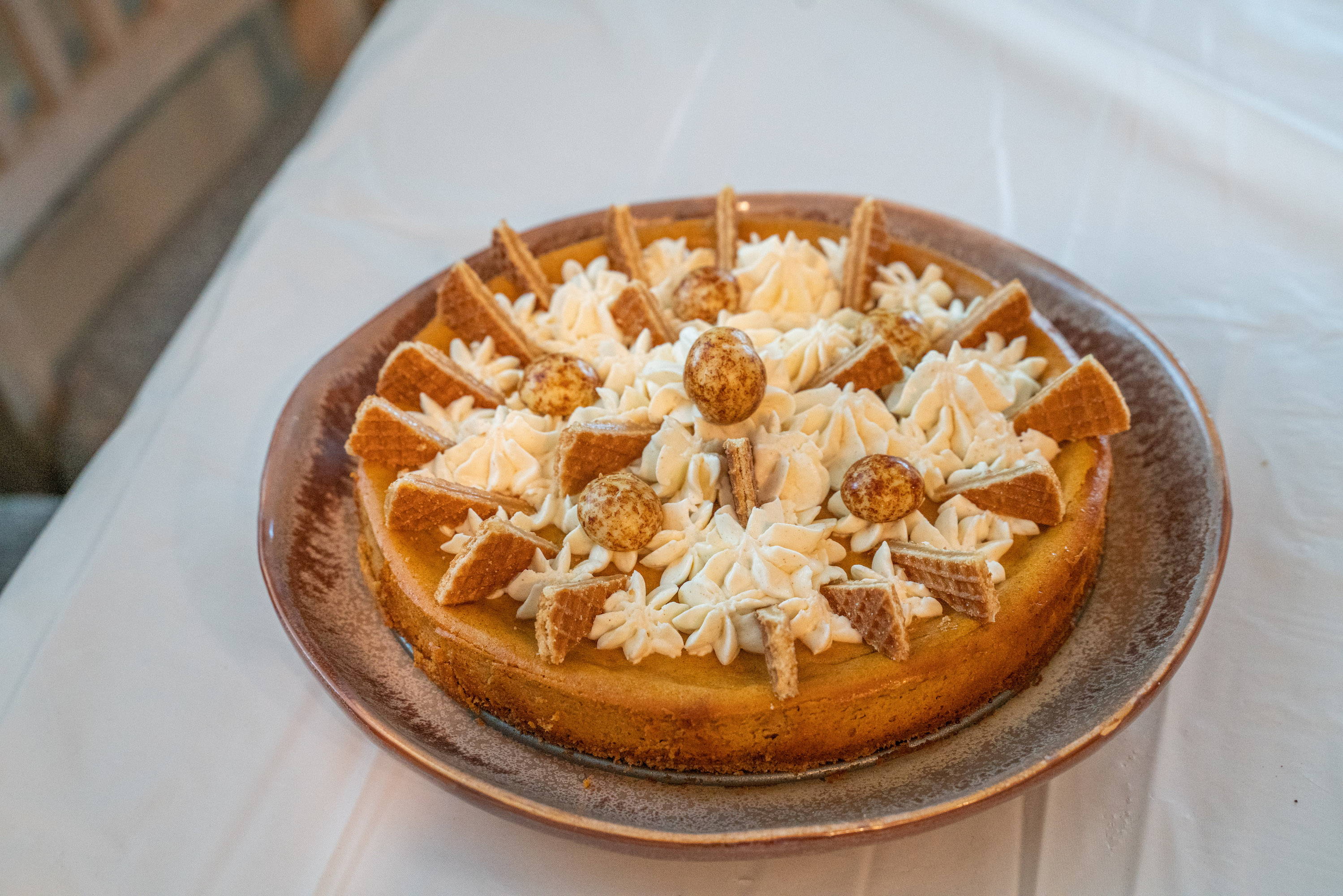 Our all time favorite stroopwafel pumpkin Cheesecake!!!!

We LOVE our fans, especially when they bake their buns off with our stroops. This cheese cake is soooo pretty and delicious we HAD to share. It seems a perfect, but easy to bake, show stopper for the holidays!
Cristina is the creator of this beautiful creation, she's fun, amazing, creative and an absolute top baker! You can follow her other recipes on her
website and blog
or through her
Instagram account @cozyrecipe
.
Thank for this mega cozy recipe Cristina, delicious and 'gezellig'!
2 packages Cream Cheese (8 oz each)
2 Eggs
3/4 cup Sugar (I use coconut+regular)
1 tbsp Maple Syrup
2 tbsp Evopurated Milk
1/2 cup Pumpkin Purée
1/2-1 tsp Pumpkin Spice
1/2 tsp Cinnamon

Crust:

3/4 cup Graham Crackers Crumbs
2 tbsp Butter, melted
1/2 tsp Cinnamon
Pinch of Salt
2 tbsp Sugar
Personal note from Chantal to veganize: Replace the the cream cheese for Kitehill or Myokos cream cheese, replace the eggs for pumpkin puree, a flaxseed egg or silken tofu, to replace butter, use any type of vegan butter or applesauce, dairy-free yogurt, coconut oil or coconut butter. Order the vegan stroopwafels and vegan chocolate bark instead of the pepernoten for decoration. You can always use stroopwafel syrup to replace maple syrup and to add to the crust ;)
1. Combine all the crust ingredients. Press into a small spring form (I use an 8 inch or smaller). Bake at 335 F for 8-10 minutes.
2. Beat cream cheese with sugar until smooth. Add one egg at a time and beat just until combined. Add remaining ingredients and beat on low until blended.


3. Pour the batter over the crust and bake at 325 F for 50-60 minutes or until the center is almost set.


4. Let come to room temperature. Leave in the fridge for at least 4 hours to set.


5. Decorate as you wish (check story highlights for my favorite frosting).
I used @stroopclub cookies as a delicious and fun touch 😍


*double the recipe for a 10-11 inch baking dish, bake for 60-75 minutes
Get your supplies from us!